Wille Faler
Experienced Consultant, Principal Engineer & Manager
[email protected] | +41 79 219 82 35 | Swiss C-permit
Personal
Languages spoken
Native: English, Swedish, Finnish.
Professional working proficiency: German (CEFR C1).
Bio & cover letter
Experienced software professional with over 20 years in the industry.
Focused on enabling data-driven decision-making. Building, enabling & scaling high-performance teams. Comfortable being a hands-on individual contributor, managing stakeholders or building teams, but most effective in the intersection between technology, people and improving the ways of working.
Values/how I work
If you are interested in finding out more about my personality, decision-making and working style, as well as my values, please feel free to read my personal README.
Skills
Self Assessment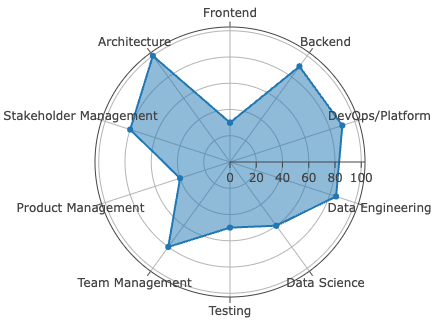 Languages
Python, Golang, Scala, Kotlin, Java, Rust, SQL, Bash.
Data Engineering
Kafka, ElasticSearch, Apache Spark, Apache Flink, Airflow, NiFi, general Python eco-system for Data/AI/ML (Jupyter, Scipy, Numpy, Pandas, Tensorflow, Keras, PyTorch, Matplotlib, Seaborn).
DevOps/Platform
Kubernetes, Helm, Docker, AWS, GCP, Azure, Terraform, Ansible, ArgoCD, Observability (Prometheus, Grafana, Loki, Tempo, OpenTelemetry), CI/CD (Github Actions, Jenkins, Gitlab, Bazel).
Experience
Jul 2017- Chaordic GmbH, Managing Partner & Principal Consultant
Client engagements:
Aug 2023- : Tech Lead, Berlin-based FinTech
Delivery enablement: Cloud consolidation & team mentoring. Enabled multiple teams to adopt a CD-based deployment model through the introduction of GitOps, feature flags & incremental roll-outs.
Jun 2021-Jun 2023: Tech Lead, Berlin-based eCommerce Unicorn
Responsible for building a search & recommendations platform, including data pipelines, building recommendations models & search indexes. Key results: 80% uplift in conversions from search and a 60% improvement recommendation upselling. Implemented Continuous Deployment with >600 production deployments/year.
Jan 2020-Jun 2021: Platform Engineer, Zürich-based FinTech
Responsibilities included Platform improvements, automating management of Kafka-based infrastructure, building IAM solutions enabling white-labelling. White-labelling allowed the company to onboard >100 new institutional clients in the first year.
Feb 2019-Dec 2019: internal AML-platform project
Worked on an AML platform for private banks & External Asset Managers.
Jan 2018-Feb 2019: Head of Site Reliability Engineering, video-chat startup
Joined during a time of high instability. Worked with the team to improve the stability, and migrated to Kubernetes.
Apr 2014-Jan 2018 Barclays Wealth Management, consultant (contract)
Building solutions for private banking client onboarding, KYC & EU 4MLD compliance.
Aug 2013-Apr 2014 UBS Investment Bank, Senior Developer (contract)
Building securities & FX settlement platform.
Jan 2012-Aug 2013 Equal Experts, consultant (contract)
Working on eCommerce payments for telecoms.
Jul 2011-Dec 2011 Greed & Fear Index, CTO & Founder
Financial markets sentiment analysis, machine learning, natural language processing.
Mar 2011-Jun 2011 BBC, Senior Developer (contract)
Video metadata management, extraction and workflow tools.
Mar 2010-Mar 2011 Monitise, Solutions Architect (contract)
Mobile banking: technical leadership, stakeholder management.
Sep 2008-Dec 2009 Financial Times, Application Architect (contract)
Classification & Natural Language Processing of FT's archive.
Aug 2007-Sep 2008 Teligent limited, Java Web Architect (contract)
Jul 2006-Apr 2007 Fujitsu Services, Solutions Architect (contract)
Dec 2005-Jun 2006 SITA, Technical Lead (contract)
May 2005-Oct 2005 Pohjola, Integration Architect (contract)
Jan 2005-Mar 2005 Accenture, Consultant
Aug 2004-Dec 2004 Sun Microsystems, Senior Developer (contract)
Apr 2003-May 2004 IBM, IT Architect & Developer (contract)
Oct 2002-Apr 2003 Accenture, Developer (contract)
Education
Academic
2002 University of Linköping
Bachelors Degree, Systems Science
Professional Certifications
2023 Data Science, IBM
2023 Machine Learning, Stanford University
2023 Generative AI with Large Language Models, DeepLearning.AI
2023 OKR Certification: Leadership & Goal Setting, Measure What Matters